One of the best things to do in Bali is a bit of morning yoga. The island is teaming with expats who come to Bali as a yoga 'mecca' from all around the world. We thought it was the perfect opportunity to get out our yoga towels!
The talented Irena Bartolec from Ashtanga Yoga Mumma came to our Colour Of Summer villa for an hour long class of long, slow Hatha Yoga. Starting with guided meditation and ending with a couple of minutes in Shavasana, our ambassadors were guided through a series of simple yoga poses. For some in our group it was their first practice, but for seasoned yogis Preethi and Jennifer, our ambassadors from Mumbai, the class was second nature. From bridge to warrior three, there was no pose too hard for these two.
Who's who?
Our Dock & Bay brand ambassadors are Keely, Aiden, Lisa, Matt, Jennifer & Preethi. Our influencers are Moti, Christian, Paige, Sophie, Jessica & Lyssie
The featured towels are from our Active Collection which come in 5 gorgeous pastel colours in a heathered 'marle' design. They are super soft, perfect for yoga and made from 30% recycled plastic bottles!
Now those are some good looking towels! (from Dock & Bay's Active Collection of course) - our Extra Large size is perfect for yoga at 200cm / 78" in length.
Keely got her preferred Rainforest Green colour, and she loves it!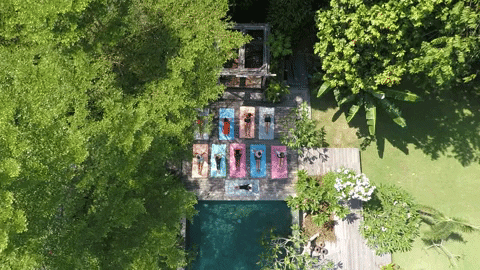 View from above - what a location for a bit of morning yoga in Bali!
The Colour of Summer gang, breathing, relaxing, taking in the surroundings.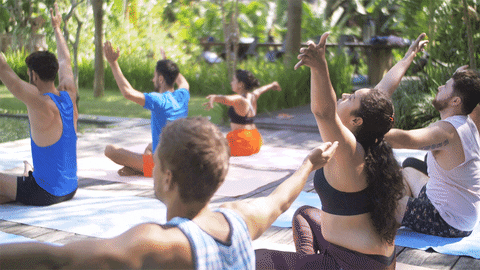 and breeeaaatthheee
A picture tells a thousand words, and this caption cannot add to it
Stretching out those hamstrings. Moti is doing particularly well right?
Nah - he couldn't hold that position for more than a split second!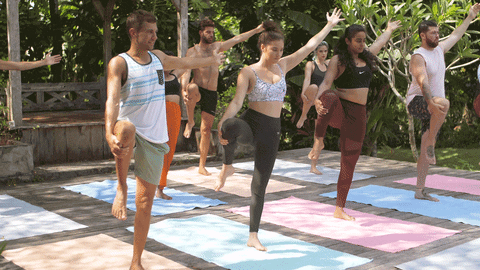 Matt and Keely (in the foreground) were not strangers to yoga, impeccable balance
Some lovely backs there being stretched right out
Matt in deep concentration as he continues the back stretches
This wasn't Jennifers first time, and she excelled!
Bali in April is HOT. Lucky Sophie had a nifty solution
Was bound to happen!
Keely took a dip in her full activewear get up
It's Matt vs. yoga instructor Irena!
Aiden gets in on the headstand action (with a teeny bit of assistance)
Preethi showing her skills
Matt brings out a yoga position to impress
End of the session and the team pack up their Active towels and yoga mats
Aiden and Keely told us they love a bit of yoga, just not in the heat!
Colour of Summer | Bali, Indonesia
Photographer: Emma Sailah, Australia
Videography: Alyssa Shreeve, United States
Drone: Danny Chapman, DCP Drones, United Kingdom
Yoga Instructor: Irena Bartolec, Ashtanga Yoga Mumma