The Colour of Summer team hit the water park! Waterbom Park in Kuta, was voted the top waterpark in all of Asia! And it didn't disappoint
The day was spent with our ambassadors running around the park in their new Dock & Bay swim shorts trying as many rides as they could. Our group of ambassadors really are adrenaline junkies and even made it onto 'The Climax'. 'The Climax' is without a doubt the most thrilling ride in the park and begins with the rider being shut into a pod high up in the sky before having the floor fall from beneath them as they are dropped into the vertical waterslide below. To make it even scarier, the floor that you originally step on to is completely transparent. So you're able to look fear straight in the eye. Only a couple of people bailed out last minute. They weren't allowed lunch... joking!
After a lunch of pizza and some famous local 'Mad Pops' ice cream, it was time to chill from the thrill rides. Everyone spent the afternoon riding along the lazy river, with a few water bomb fights thrown. I mean it's the name of the place right? Andy was told off a couple of times for hijacking other people's tubes... which is apparently against the rules. Who'd have thought?
Taking you through the day
So here's a look at some of the best bits of our day at the water park. Many of the team voted it their favourite day of the whole trip! And that's saying something.
Our Dock & Bay brand ambassadors are Keely, Aiden, Lisa, Matt, Jennifer & Preethi. Our influencers are Moti, Christian, Paige, Sophie, Jessica and Lyssie.
The featured shorts can be found at Swim Shorts Collection.
Taken by surprise, as the whole water park appears to collapse on top of them
Matt and Aiden on their round rubber dingy. Not quite a rubber duck but they look pretty happy.
Matt looking really happy about his new Cancun Green swim shorts.
It's like a Herbal Essences advert over here.
Andy telling another towel joke
Danny and Aiden sharing a romantic trip down their Bali memory lane
Matt - just happy to be alive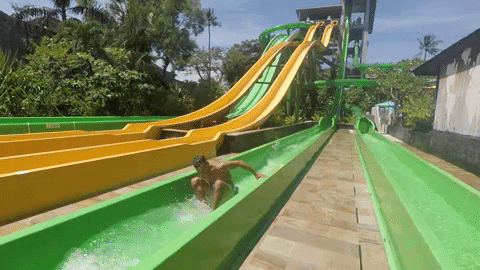 Really, really happy.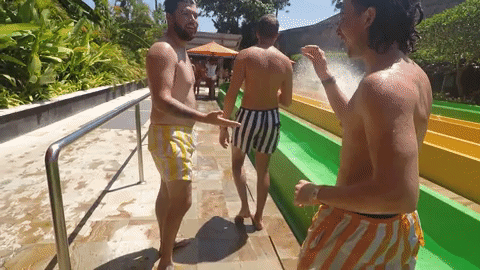 3 of the Colour of Summer team rocking their new swim trunks. All different colours in case they get lost.
The lazy river. A much-deserved rest after all that hard work lying in tubes.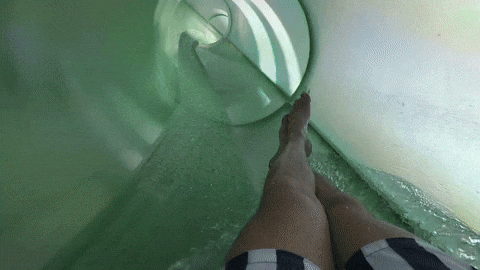 Sliding into Friday like.....
Colour of Summer | Bali, Indonesia
Videography & Video Stills: Danny Chapman, DCP Drones, United Kingdom
Swimwear: Dock & Bay (mens)